The Bellerose Bulldogs went up against the Sturgeon spirits, while the Paul Kane Blues tangled with the Harry Ainlay Titans.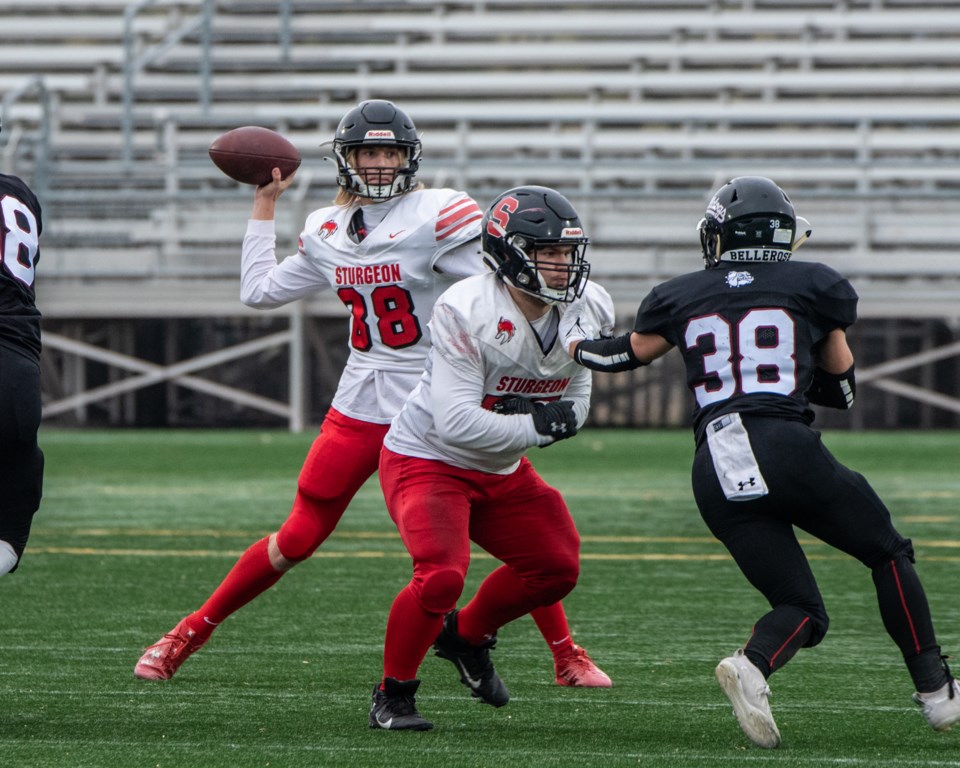 Listen to this article00:03:33
St. Albert and area high school football teams wrapped up their Metro Edmonton League seasons with championship games at Clarke Stadium last weekend.
The Bellerose Bulldogs and the Sturgeon Spirits went head-to-head on Nov. 4 for the Division 2 Miles Conference title. The Bulldogs defeated the Spirits, 38-6.
"We just kind of jumped on them and we were able to get a bit of a lead," said Bulldogs coach Jason Lafferty. "[The Spirits] could really rush the ball very well this year, and their quarterback does a fantastic job of running the football. So, we just wanted to make sure that we maintained our momentum and kept them off the field."
Bellerose player Darius Crandell garnered the team a 73-yard opening kick return to put the Bulldogs in scoring position and help them take control of the game.
Ty Kohut scored a pair of rushing majors for the Bulldogs, and their swarming defence kept the Sturgeon offence in check. The lone Sturgeon touchdown was scored by quarterback Dusty Campbell for his conference-leading 13th rushing touchdown of the season, said Spirits coach Chad Hill.
"Sturgeon came up from Division 3 (Gilfillan Conference) after an undefeated 2022 championship," Hill said. "One bright spot for the Spirits was that injured quarterback/kicker Austin Panchyshyn, out since breaking his leg in August, suited up and got on the field for one play to end his high school football career."
"The day did not go as we had hoped, but that is football and that's life. I am proud of the way our team battled and overcame a pile of adversity this season. Moving up divisions is not easy at the best of times."
This season the Bulldogs moved to the Division 2 Miles Conference from the Division 1 Carr Conference. The team will not go to the provincials.
"We have 11 graduates leaving our program from the senior team," Lafferty said. "They won the last football game that they ever played in high school … [They can] walk off the field and feel like they've given everything to our school."
Back to News